I teach with passion, positivity and patience and believe that the best learning takes place through fun, discovery and encouragement! I use an integrated approach based on best piano traditions and recent research in education.
What the Studio offers to students:
Individual, flexible programmes.
Practice Support in between lessons via email, WhatsApp and video tutorials.
Practical Music Theory and History, Grade 5 Theory Exam support.
Basic improvisation and composition skills.
Performance opportunities for students who wish to perform (Studio Recitals and workshops, EPTA concerts and masterclasses, Piano Festivals and Competitions, Charity Concerts).
ABRSM, Trinity and LCME exams support (Most students achieving Merit and Distinction).
Piano Lessons for Children
Music activities are very beneficial for brain development. It is acknowledged that children learning to play a musical instrument develop better concentration, memory, language, mathematical and reading skills as well as self-esteem, self-discipline and emotional intelligence.
Pupils are encouraged to learn through a process of exploration and discovery that ignites imagination and creativity. Children learn to set their own goals, work independently and manage their home practice time.
I provide a solid foundation in piano technique and musicianship so that my students are empowered to explore any kind of music and realize their highest potential.
Practise and Instrument
Students are expected to practise regularly on a well maintained acoustic piano or full size (88 keys) digital piano.
Parental involvement
Parents are encouraged to attend and quietly observe lessons and help children to set up a regular practise routine at home.
Piano Lessons for Adult Beginners
Get in touch and start learning the music you always wanted to play!
It's never too late to learn to play the piano! A love of music knows no age and learning piano is a fun, rewarding experience. Music is a wonderful outlet for self-expression and enjoyment that improves the everyday quality of life. Playing a musical instrument on a regular basis can help to sustain a healthy immune system, reduce everyday stress and anxiety, increase memory and improve coordination.
If you are an adult wishing to start piano lessons, I am happy to help you to discover your true musicality. You are welcome to contact me to discuss your goals and requirements and together we will develop the best course of study to suit your individual needs.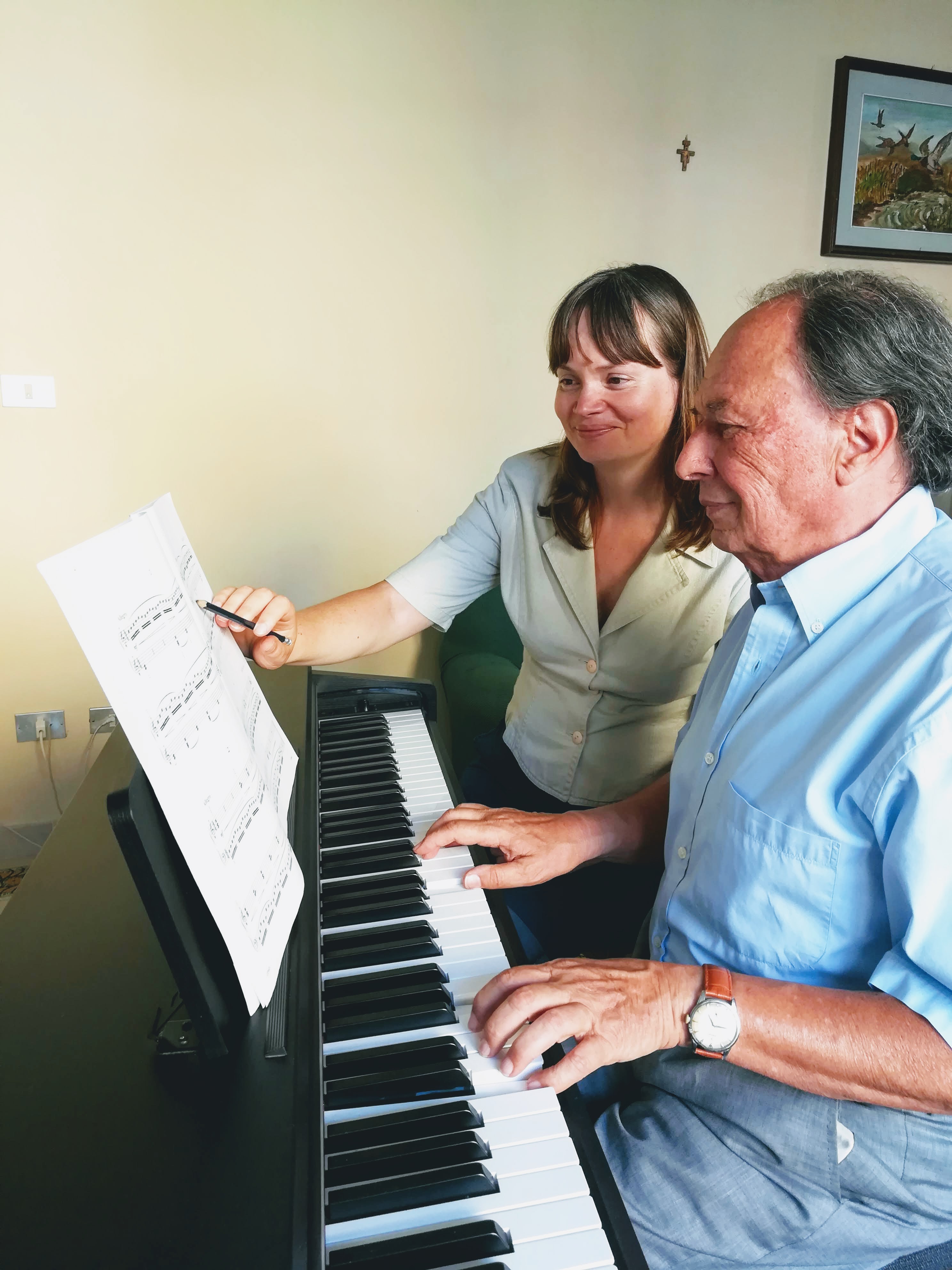 Piano Lessons for Intermediate and Advanced Levels
After learning the basics of music and piano technique students are introduced to world famous classics and explore others styles and genres of music. Students learn to practise effectively and continue to work on their technical and musicianship skills alongside with practical music theory and history.
Students can choose to study towards a recognized music qualification: ABRSM, LCME or Trinity exams or simply play the music they enjoy without taking any exams!
Performance opportunities are provided for students who wish to perform. Many of my students enjoy playing in Studio Concerts, Edinburgh Festival, EPTA workshops and masterclasses and other public events.
Intensive Grade 5 Music Theory Course
For those students who would like to focus on Music Theory and prepare for Grade 5 Exam I offer intensive Theory Lessons.